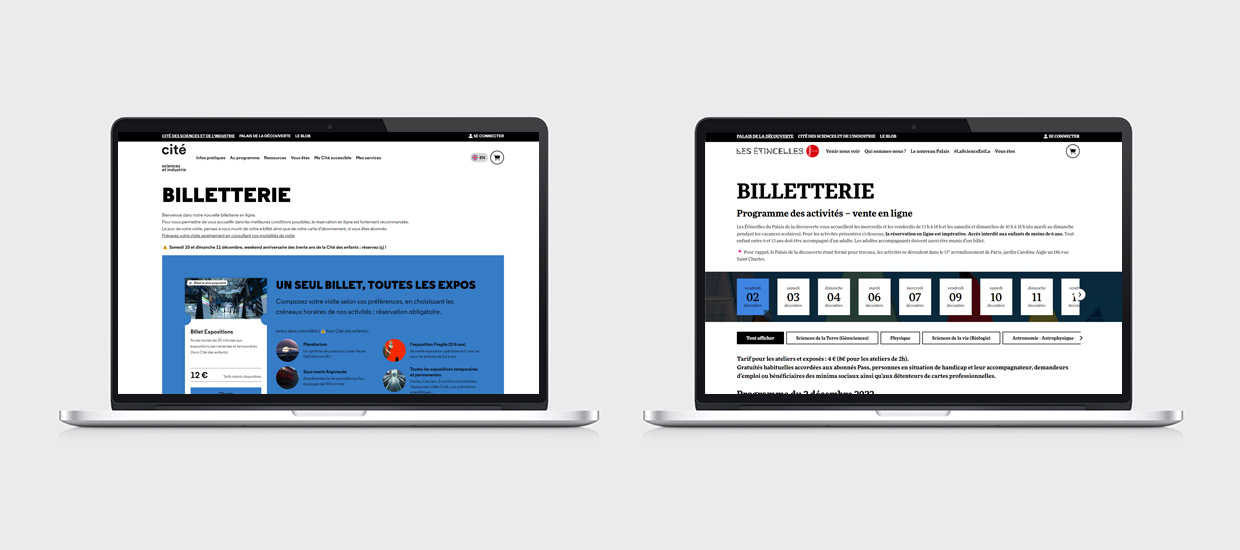 UNIVERSCIENCE
ONLINE TICKETING
Cité des sciences et de l'industrie & Palais de la découverte
The ticket offices for major cultural sites and museums today are all alike: we all have to take existing, non-customized solutions. However, each museum has a varied, rich and different cultural offer. Most of the time, it is the museums that adapt to ticketing software and not the other way around.

How to take back control of the online shopping experience and allow museums to personalize their ticketing?
By using API technology, we have chosen at Universcience to simply connect our ticketing solution to an online platform that we have developed to measure. The first stage of the project was the UX design by imagining all the possible routes on the 2 ticket offices (Cité and Palais). When the two designs were validated, our developers took over to create the 2 websites and connect them, via the APIs, to the ticketing software. Result: intuitive online ticketing, promoting the purchase of tickets online before visiting the museum. The steps required for purchase have been shortened, the reliability of data is assured and our offers can be promoted with an ingenious personalized cross-sales system. In 2019, 45% of tickets were purchased online. It is now 75% of tickets at the Cité des sciences et de l'industrie and 95% at the Etincelles du Palais de la Découverte.
Credits:
Project from 2022 to 2022.
Universcience team: Justine Naudin, Rémi Guelton, Anne Flipo, Wilfried Jumelle, Jérôme Dubin, Emmanuel Ory.
UX Design : Ability
Web development : Agence Gaya